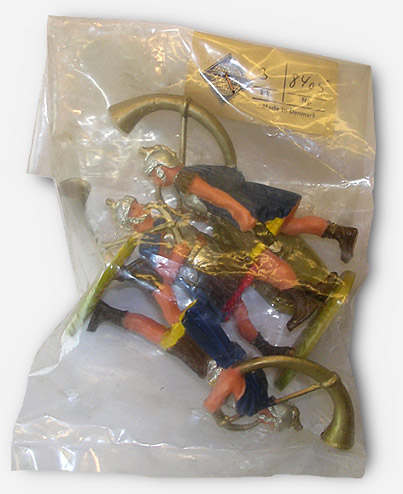 At Reisler's factory Elastolin figures were painted and assembled.

As seen below the figures were cast in multiple parts which were later glued together. At the time when Reisler was involved with Elastolin the Normans and the Vikings were cast in white plastic. The colour of the Romans matched the flesh. Whether Reisler painted the Indians and cowboys has yet to be confirmed.

The finished figures were delivered to the toy shops in bags, gift boxes or in various kinds of displays. The bagged ones usually came single or tripple. (pic. right)
The quality of Reisler's painting is rather primitive compared to Hausser's early work which is best described as small pieces of art. They had to reduce quality as time went by though.

Reisler simplified the painting in order to produce affordable toys for playing rather than perfect ones for display or toys that only few could afford. But they are still very collectable.