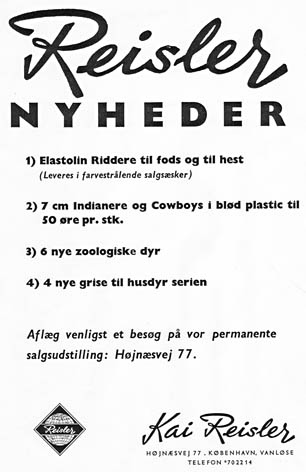 With few exceptions Reisler reused Haussers own numbering. The two first digits of the "simple execution" Indians and cowboys were changed however. 15 figures of this line were imported too.


Elastolin was also listed in Reisler's pricelists of April 1963 and Nov.1964. Whether figures were added during 1965 is uncertain, but a status count of Reisler's stock per Jan. 1st 1967 indicates no further additions.


The cooperation ceased in 1965. Documents written to Reislers salesmen in 1965 and 1966 respectively show that Hausser figures had been removed in the latter. No advertising of Elastolin products is known after 1965 neither.


A few animals came from Elastolin also. Info in "More Hausser" or Reisler 55 mm. zoo or farm animals.